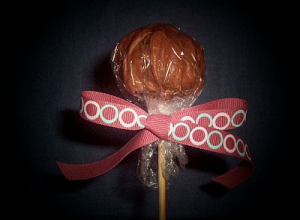 Reviewed by
Cake Pops
Rating:
4.5
1. Preheat oven to 180C/350F. Grease and flour 2 medium to large cake tins. (This recipe doesn't work well as "sandwich cakes"; it's better as a single, big, tall cake.)
2. Put all ingredients in a large mixing bowl and beat with an electric mixer until it is smooth. Pour into cake tin.
3. Bake until an inserted butter knife comes out clean. Let cool, then decorated as desired OR let cool only until it is comfortable to handle, and then shape pieces of cake into balls around lollipop sticks.
I frosted the cake pops with a pretty simple chocolate buttercream. I beat together about 1 cup butter, 4 cups sugar, 2 tbsp vanilla, 2 oz melted and cooled dark chocolate, and 2 tbsp cold water until it made a smooth frosting that was easy to spread (make sure to taste test it and adjust as desired).
After giving the frosting time to stiffen, I covered the cake pops in cling film and then tied securely with ribbon. And voila, cake pops. Bite sized cake on a stick. Fantastic for when you want to be cutesy.