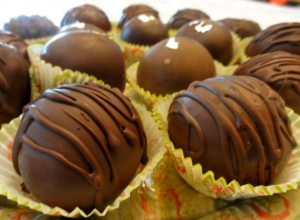 Reviewed by
Cake Pops
Rating:
5
This recipe and images are courtesy of ChefPriyanka you can view more of her creations at her blog.
The process isn't hard, it's just a bit time consuming. But, if you're looking to indulge and treat yourself or a loved one, then the time and effort are definitely worth it!
Cream Cheese Frosting:
3 cups confectioner's sugar
6 oz reduced fat cream cheese, softened (I used Philadelphia Brand)
2 1/2 tbsp unsalted butter, softened
1/2 tsp rose water/essence
Chocolate Coating:
4-5 bars dark chocolate, melted (I used Ghiradelli 70% Cacao)
silver leaf (optional)- available at Indian Grocery Stores
Process:
1. Preheat the oven to 350 degrees. Spray a rectangular pan (~9×13) with PAM and line with parchment paper. Spray with PAM and set aside.
2. In a medium bowl sift together the flour, cocoa, baking soda and salt. Mix and set aside. In a large bowl add the eggs, buttermilk, vinegar, oil, food color and rose water. Using a hand mixer beat on low for 1-2 minutes until blended well. With the mixer on low, add about 1/2 cup of the dry ingredients and blend. Do this continuously until the dry ingredients are blended well with the wet ingredients and is smooth. Do not over beat. Pour into greased pan and bake for 35 minutes. Turn halfway through.

3. Remove from the oven and cool in the pan for about 15 minutes. Using the sides of the parchment sheet, lift the cake out and cool for another 15-20 minutes or until completely cool. Using a serrated knife, trim off the hard edges.
4. In a large bowl add cream cheese, butter and rose water. Beat on low speed for 1-2 until creamy and blended. While beating add in 1/2 cup at a time of confectioner's sugar. Beat until everything is blended and creamy (resembles frosting).

5. In a large bowl crumble the whole cake into small pieces. Mix in the frosting using a spatula until its incorporated well and resembles a thick crumbly dough. Roll into 1-2 inch thick balls. Press together with fingers to make sure that the cake sticks together as a ball, and smooth using the palms of your hands. Place on a cookie sheet and freeze for about 1 hours- till its chilled & hard, not frozen solid.
6. Melt the chocolate in a large bowl. Take about 4 balls out of the freezer at a time and thoroughly coat each ball, dunking them into the bowl of chocolate. Place on a parchment lined cookie sheet to dry. Decorate tops with drizzled chocolate (optional). Once the balls are all dry (few hours or over night) carefully decorate with the silver leaf.