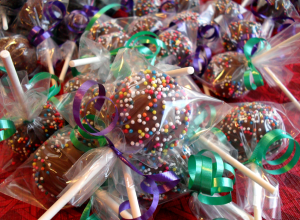 Reviewed by
Cake Pops
Rating:
5
This recipe and images were brought to us by Veronica from Recipe Rhapsody, she did an amazing job documenting the process.  Enjoy!
Cake Pops
Makes 40-50 pops
Bake the cake mix according to package directions. You can purchase Betty Crocker Supermoist Cake Mix on Amazon. Once it's cool, crumble the cake into a large bowl. I prefer to process mine in the food processor to fine crumbs. Place in a large bowl and stir in half of the frosting container or 1/2 cup of your homemade frosting. Mix with your hands until thoroughly combined and thick like a truffle center. Mix in additional frosting if necessary.

Roll mixture into 1″ balls and place on a cookie sheet. Cover with plastic wrap and refrigerate for an hour or overnight. I usually do this step the day before and then dip them the following day. Do not freeze them before dipping or it may cause the chocolate to crack after they are dipped.


Melt chocolate in the microwave per directions on package. Dip the tip of your lollipop stick in a little of the melted candy coating and insert into the flat end of the cake balls. (Bakerella says to insert a little less than halfway, but I go more than halfway b/c I imagine they stay put a little better when dipping.)


The cake balls will have a flat bottom from resting on the cookie sheet. Insert the stick into this end so the top will be round.

Carefully insert the cake ball into the candy coating by holding the lollipop stick and rotating until covered. Once covered, remove and softly tap and rotate until the excess chocolate falls off. Don't tap too hard or the cake ball will fall off, too. Immediately cover with sprinkles before the chocolate has a chance to set, then insert in a styrofoam block to harden.


You want the chocolate to come over the platform you created when inserting the chocolate-dipped stick, but you don't have to cover it all the way to the stick.


Tap off the excess chocolate.


Add sprinkles before the chocolate has a chance to set.


I wrap my styrofoam board in plastic wrap to keep it clean so I can reuse it.

Once the chocolate has set, put a cello bag over the top and tie the neck with some curling string and tie into a bow or curl.
You can get very similar bag on Amazon.
Big thanks to Veronica for sharing this recipe with us, you can see more of her creations on her blog Recipe Rhapsody!