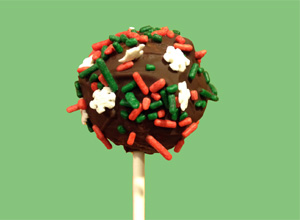 This one is for adults. Finally!!! A great cake pops recipe with your favorite liquor.  Feel free to add more of it into the frosting


Note: For this recipe you can use bourbon or dark rum; we used Jim Beam.
Batter:
1. Mix together sugar and butter, then beat in eggs until blended.
2. Add to the mixture:  eggnog, bourbon, and vanilla.
3. In a separate bowl mix together flour, baking powder, baking soda, cinnamon, allspice, and nutmeg.
4. Combine  number 1 and number 3 together.
5. Bake at 350 for 20-22 minutes.
6. Once ready and cooled down, crumble into the bowl.
Frosting:
1. Put flour in a pan, whisk in eggnog until blended and smooth.
2. Add egg yolk, whisking until combined.
3. Cook on the stove over medium-low heat,  stirring constantly, until thickened.  Remove from the heat occasionally to avoid lumps.
4. Remove from the stove, stir in butter, bourbon/rum, and vanilla.
5. Mix into the bowl with the crumbled cake.
6. Make small (1/2 inch diameter) balls, insert the sticks (we usually dip the sticks  into the chocolate before) into the cake balls. Place into refrigerator to chill for 30 min.
7. Melt chocolate and dip cake pops in it. Put back into refrigerator for 15-30 min
8. Decorate away.
Great as Christmas cake pops.